Discover more from The Lunacian
Axie Infinity news + announcements
Over 336,000 subscribers
Lunacian #21

Greetings Lunacians!
It's been an amazing week with lots of excitement around the Axie ecosystem!
This article gives a nice overview of the catalysts regarding the recent surge in activity.
Here are some stats:
750 new downloads of the Alpha over the past week representing a 15% increase in the install base.
~600 new Discord Members

358 new Axie holders, an increase in the holder base by 7.5%

1,000 new Twitter followers.

Blockchain WAU (weekly players) increased by 676%. Blockchain MAU (monthly players) increased 240.94%.

Total weekly volume from ~22 ETH ----> ~400 ETH.

We believe the last week demonstrates Axie's ability to attract attention through our combination of amazing artwork, fun gameplay, strong economic design, and dedicated community. This bodes well for our future as we ramp up our growth machine once our product has been fleshed out and polished. Here's a tweet from DappRadar's Skirmantas about the surging growth!

Scaling Axie with Ronin
Earlier this month we announced that we're working on an Ethereum based sidechain called Ronin. Ronin will allow us to take the usability of Axie to the next level, setting us up to welcome the next generation of trainers, thinkers, and explorers to Lunacia. Want to learn more? Check out our announcement article through the button below.

June Development Update
June was an incredibly busy month at Axie HQ! We put out a development update to walk you through the progress we made. We've loved the response to these updates and think they've done wonders in keeping the community aligned with our vision!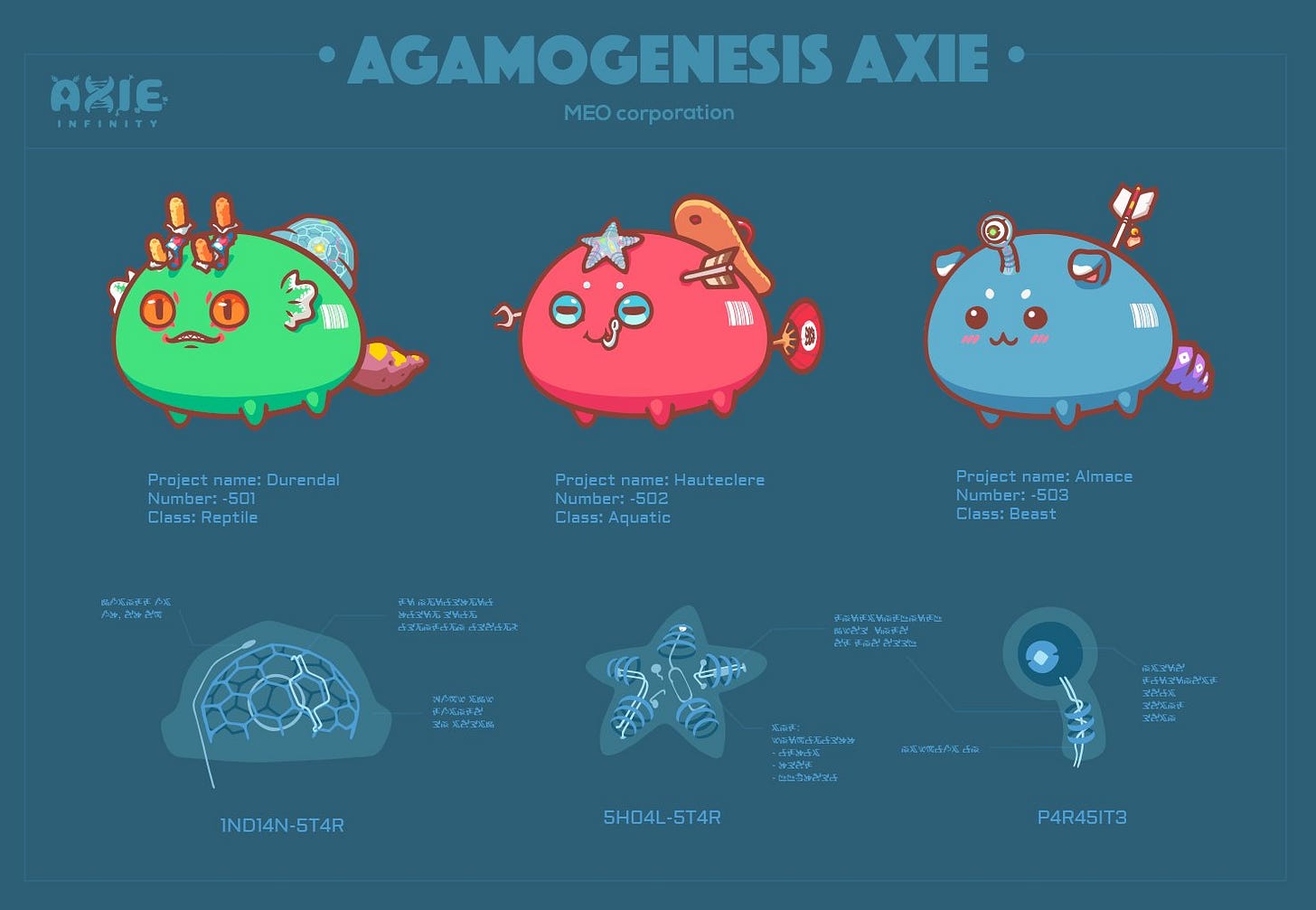 Sharding Rare Axies
We're very excited about experiments at the intersection of decentralized finance (DeFi ) and gaming. The last week we saw our community begin to offer fractions of some of the rarest and most unique Axies through a platform called Niftex. Niftex allows users to create fractions, or shards, of an NFT and offer them to other people. This dramatically decreases the barrier of entry for owning a slice of some of the most desirable items in the Axie universe! At one point, Almace was valued at over 100,000 dollars!
Our friends at Defi Rate did a great writeup of the phenomenon here. Check out our community member Gabby's tweet announcing the launch of Almace shards (ALMX) below:

That's it for now and make sure to join us in Discord to let us know if you have any questions or feedback!
The Axie Infinity Team
Axie Infinity Discord — Want to start playing but not sure where to start? Join our Discord, our community will answer any questions you have!
Axie Infinity Twitter — Our DM's are always open :)
All the information & tools you need to play Axie Infinity in one place.