Discover more from The Lunacian
Axie Infinity news + announcements
Over 336,000 subscribers
[Axie Infinity] Funding Secured!


It's finally official! We've closed a fundraising round of $1,465,000 for Sky Mavis, the parent company of Axie Infinity. The round was led by Animoca Brands with participation from Hashed, Pangea Blockchain Fund, ConsenSys, and 500 Startups.
Axie Infinity is a digital pet universe where players battle, raise and trade cute creatures called Axies. It's one of the highest grossing blockchain games of all time according to DappRadar.com and Dapp.com.
The funds will be used to accelerate the development of the Axie Infinity universe. We will also be building the technology needed to create fun and practical blockchain-based applications for users in the real world.
A special thanks to our community
Since our humble beginnings in early 2018 we've witnessed an incredible group of artists, developers, and die-hard fans come together to form the well known Axie Infinity community.
The community has been an essential piece in discovering Axie's true potential. As one of our players eloquently put it:
The brilliance of Axie Infinity is that the platform is providing a canvas that incentivizes users to build and add value to the game world through crypto-economic incentives. There is is no technical knowledge or electricity/hardware costs for anyone looking to earn a reward for their contributions to this network.
These are some of our major accomplishments to date:
Released two games in the Axie universe (Breeding and Idle Battles)

One of the most used ERC721 contracts ever.

$1,100,000 worth of game assets sold, and $1,800,000 in trading volume between players.

World record for ETH raised by a blockchain game in one day (1,200 ETH).

Partnered with Samsung, Klaytn — the blockchain project of Kakao, MakerDAO, Loom Network, HTC, & other strong projects

Featured in Yahoo Finance, Naver, CoinDesk Korea, Dagens Næringsliv, and Decenter Korea.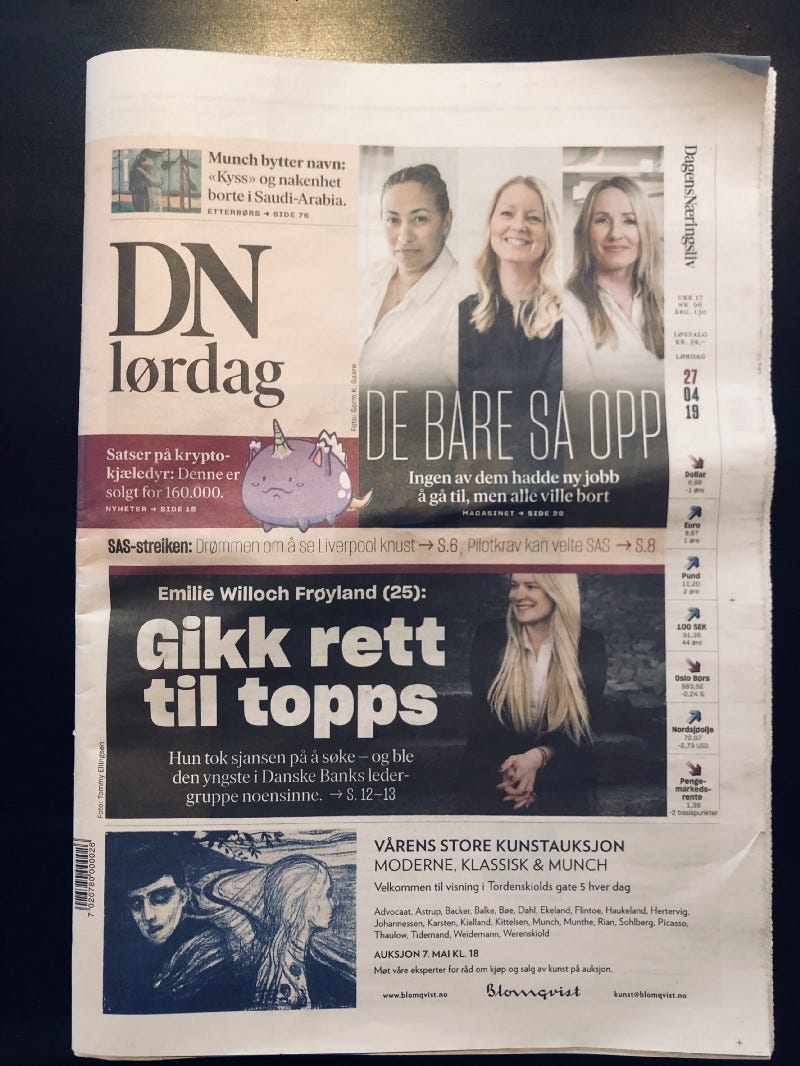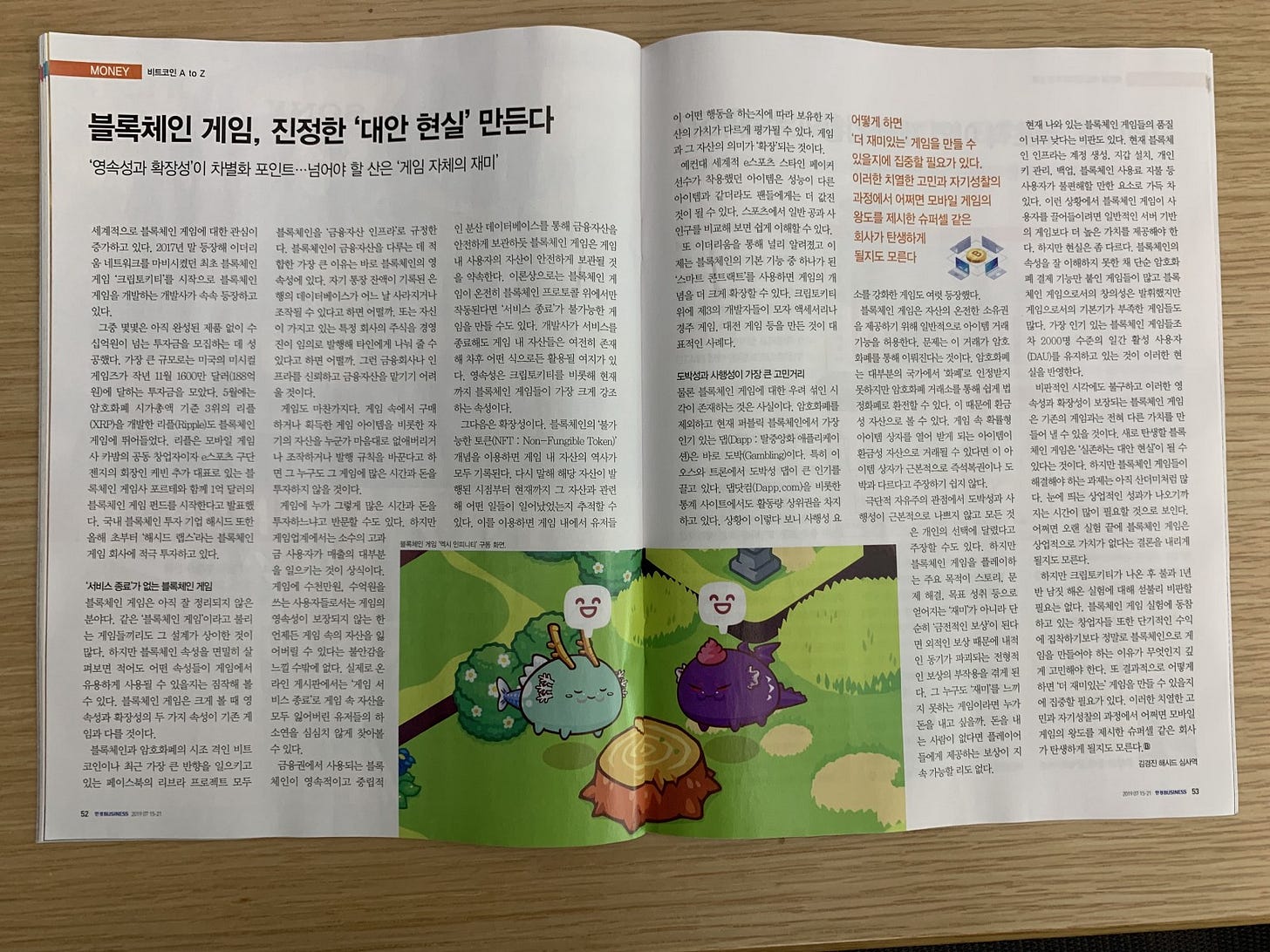 Why does this matter?
We now have more resources to expand the team and deliver new features at an expedited rate.

We are getting advice, feedback and support from some amazing new allies which will help us take Axie Infinity to the next level.

More funding will open up many new doors for the Axie universe such as more attention from the press/influencers & the ability to attract new members to the Axie community and team.
What's coming next?
Our current priority is launching an amazing mobile application in the first half of 2020. The application will introduce "play to earn" to a new wave of blockchain users through beautiful, competitive, and immersive gameplay.
Make sure to join our Discord where we can build the Axie universe together!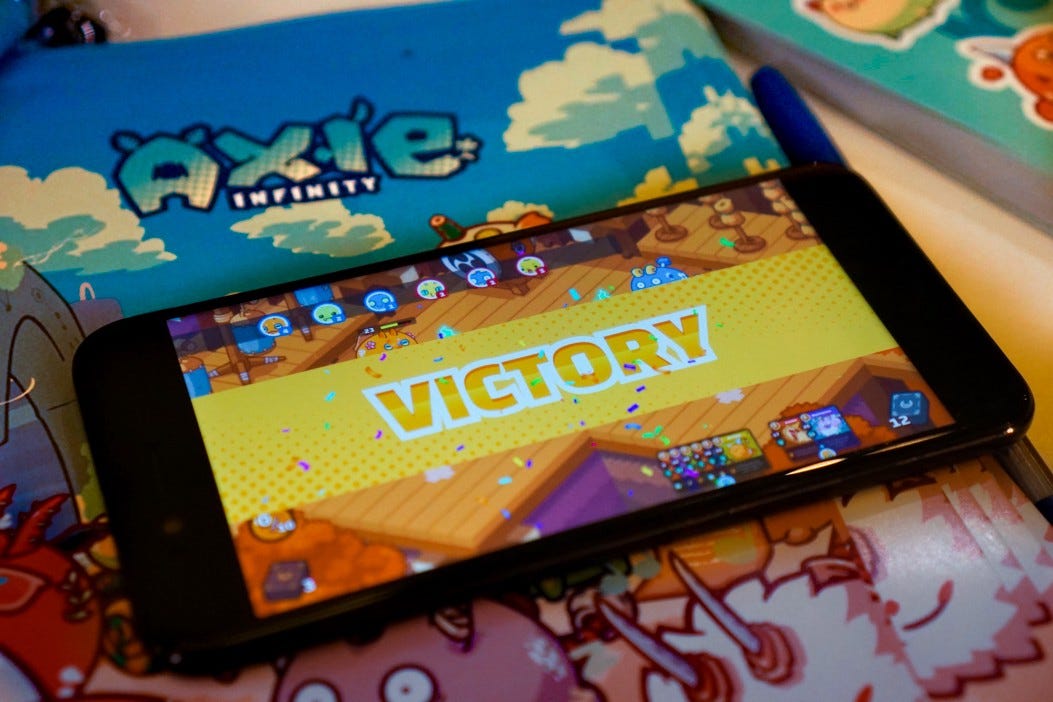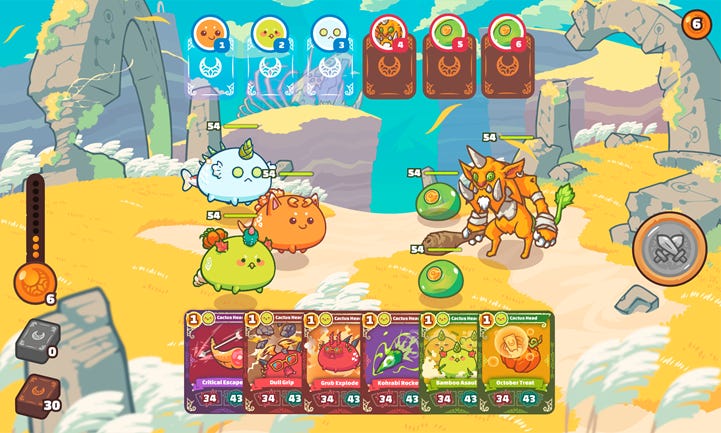 So who are our investors?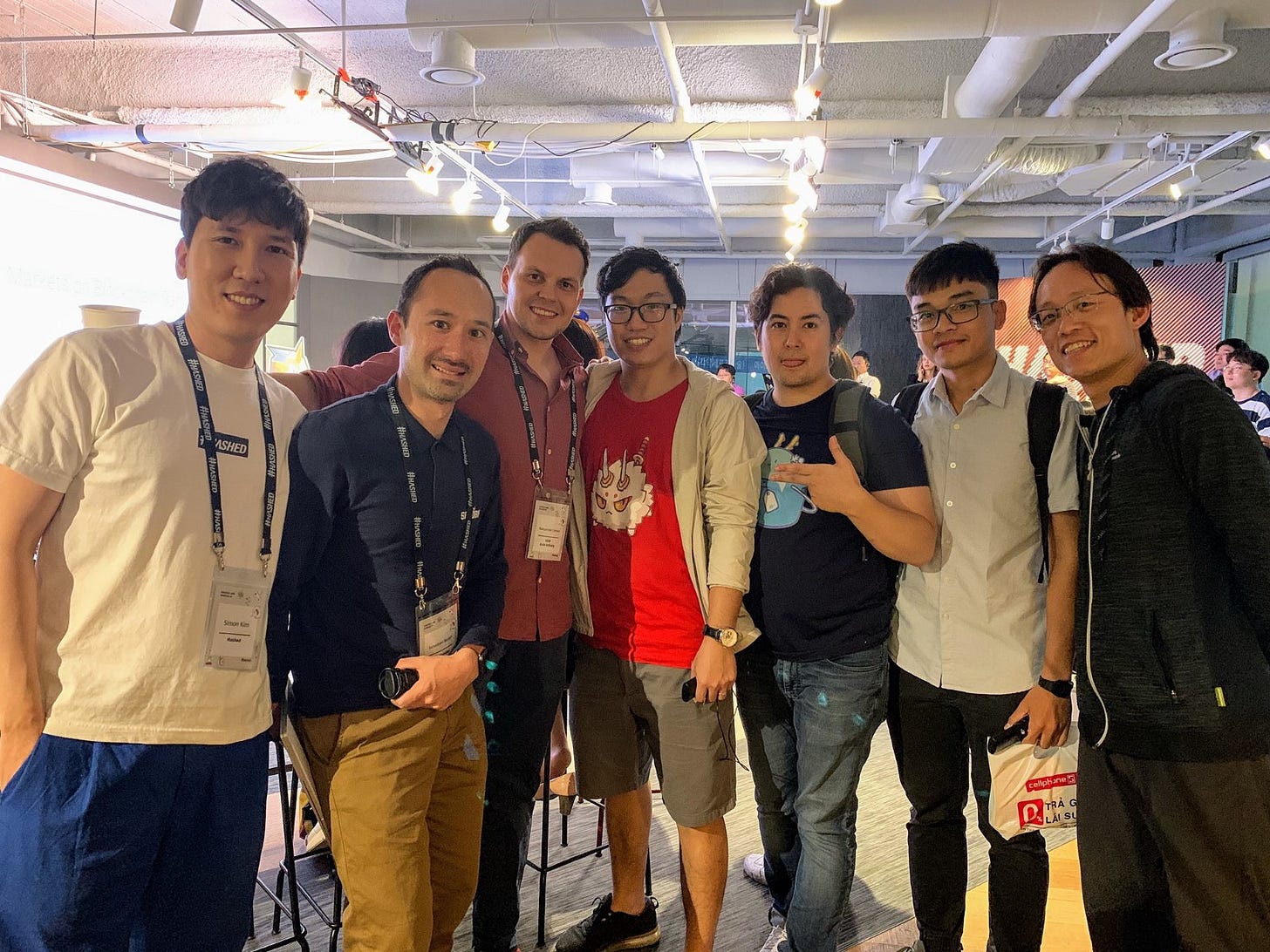 We are incredibly excited to share some more information about our all-star cast of investors. We're grateful that they've joined our community in recognizing the strength of the Sky Mavis team and the potential of Axie Infinity at an early stage.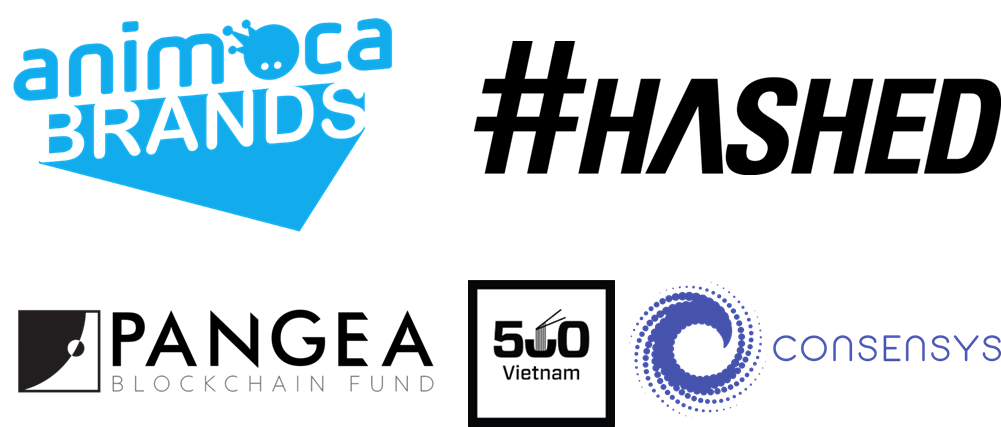 Animoca Brands
Animoca Brands (ASX: AB1) leverages gamification, blockchain, and artificial intelligence technologies to develop and publish a broad portfolio of mobile products. The company is based in Hong Kong, Canada, Finland, and Argentina
"We are very pleased and honoured to invest in and work with Sky Mavis, who has built up Axie Infinity into one of the most successful and popular blockchain games on the market. We look forward to a fruitful relationship."

Yat Siu, Chairman of Animoca Brands
Hashed
Hashed is a global, early-stage venture fund focused on backing founders who are pioneering the future of blockchain and cryptocurrency.
It has given me much pleasure to work with the Sky Mavis team who truly appreciates the value of community engagement. Building on top of its strong fan base from the beginning, the team implemented impressive strategies to evolve the blockchain gaming industry to the next level. I personally look forward to what new heights it can set to usher in the age of virtual world we believe in.

Kyuntae Ethan Kim, Managing Partner of Hashed
Pangea Blockchain Fund
Pangea is focused on commercial and industrial applications for blockchain technology.
We are proud to be a part of the strong community that is growing around Axie Infinity. The Sky Mavis team has built an exceptional platform that fundamentally changes the way developers and gamers interact with the virtual world. I feel great excitement and anticipation as we await what is to come for Axie!

Stephen Duplessie, Co-Founder of Pangea Blockchain Fund
ConsenSys
ConsenSys is a global blockchain technology company building the infrastructure, applications, and practices that enable a decentralized world. The investment was made through Coven, a software platform used by ConsenSys employees to collaboratively source, diligence, and make venture investment decisions for ConsenSys.
We have been following the journey of the Axie Infinity team for over a year as they've created a world which has amassed a large community of dedicated players and developers. They continue to innovate using NFTs and we look forward to supporting them as they onboard a new wave of mainstream gamers into the blockchain space.

Chris Gonsalves, ConsenSys
500 Startups
500 Startups is a venture capital firm on a mission to discover and back the world's most talented entrepreneurs, help them create successful companies at scale, and build thriving global ecosystems.
"I have observed Axie Infinity and the Sky Mavis teamfor over a year, and it has been a real pleasure to see everyone come together, from a hodgepodge of international & diverse talent to an integrated team, one with a real shot at shifting paradigms not "only" in gaming but perhaps even in blockchain adoption more broadly."

Eddie Thai, Partner of 500 Startups Vietnam
Sky Mavis
"I'm so proud of our team and community. This is what Blockchain development is all about, a small team from Vietnam being able to attract funding from some of the top investors in the space. We now have the resources to take the Axie vision to people in the real world. We're fully focused and locked in on the mobile app launch right now — we can't wait to show it to everyone."

Trung Nguyen, CEO and Co-Founder of Sky Mavis
Our community members are always quick to ask: How can I help?
We always appreciate whenever our community and friends help us by:
Want to get in touch with us? Send an email to aleksander@axieinfinity.com